My brother-in-law and his son, Easton, MD
I spent most of this fall in my home state of Maryland. Each time I return there I am struck by its beauty. This post is an effort to capture a glimpse of the place where I am from, and the people I love who are still there.
Michael taking my sister and her husband out for a sail, Easton
We rented a beautiful place for our family to get together for a few days, on the Eastern Shore. The house was right on the Miles River, which feeds into the Chesapeake Bay.
The girls, Easton
It was a chilly September evening, but my two eldest nieces were not going to let the swimming pool go to waste....
Shoes! Easton
The adults wore flip flops, but my nephew preferred sturdier hiking sandals.
Headquarters, Greenbelt
Our home base this year was the home of my dear friend Kim (having two Kims in the house did sometimes get confusing), and her husband Joe. I stayed much longer than I had planned, but Kim and Joe were endlessly welcoming. Well, Joe did start using "goddamn" as an honorific when addressing my husband, but that was just his way of showing that he cares.
Kim and a chilled Chardonnay Viognier, Greenbelt
Most days ended with wine and snacks, and the house was full of conversation and easy laughter. I liked this chardonnay viognier blend, but the most memorable bottle we drank was a Blank Ankle Vineyards 2006 Crumbling Rock red table wine. Black Ankle is a Mt. Airy vineyard, and it's great that the days of describing a bottle as "pretty good, you know, considering it's a Maryland wine" are over. Black Ankle is winning national awards, and can be served without any apologies whatsoever.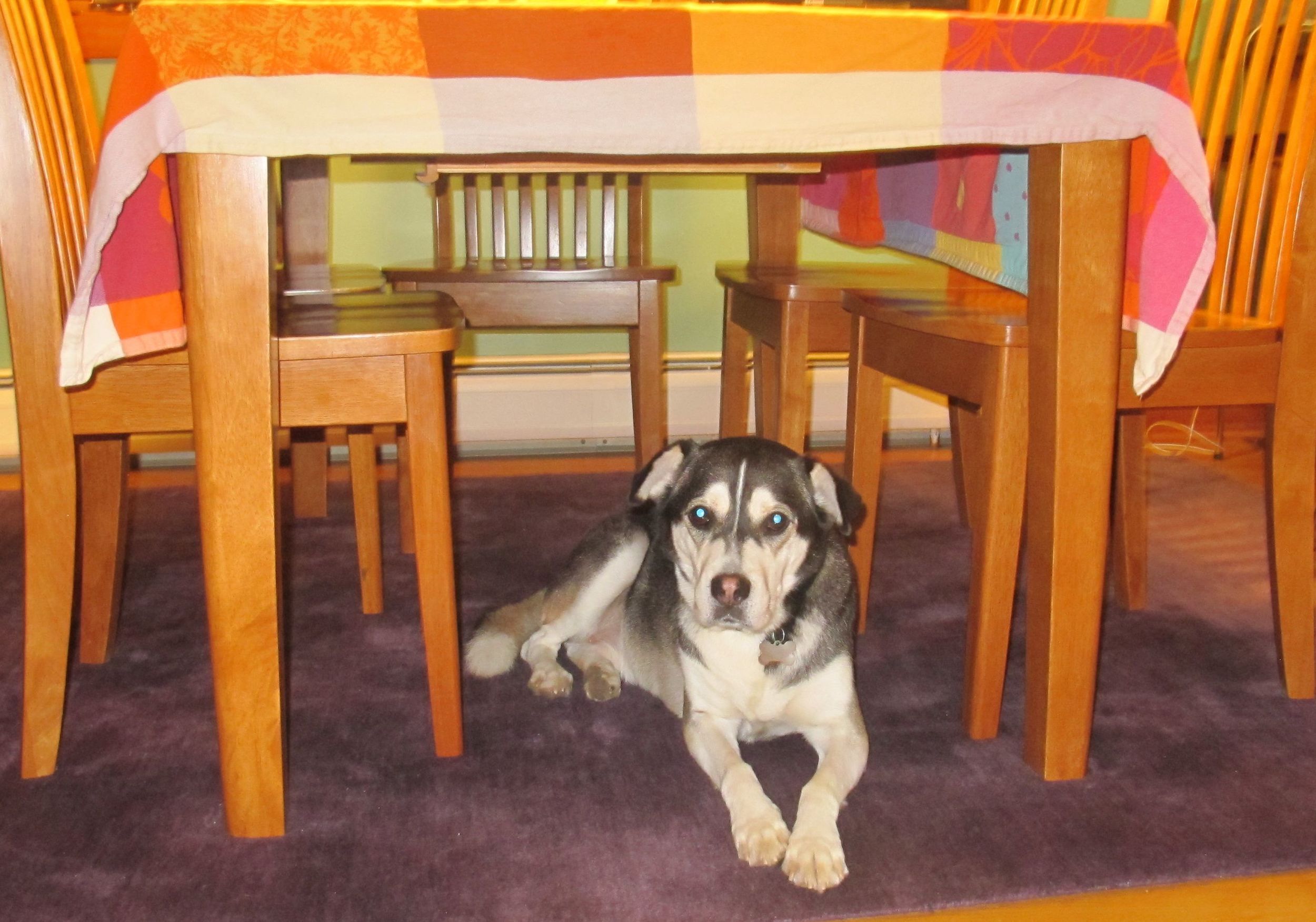 Baxter reporting for duty, Greenbelt
This is Baxter, our handsome Siberian Boxer Beagle. He lives with his other family in Greenbelt now, because it would have been too awful to transplant a husky mix to the Saudi desert. He came over to Kim and Joe's house for visits while I was in town. Here he is staking his claim to the spot under the dining table. His job is to anchor people's feet as they dine.
GVFD Crab Feast, Greenbelt
We timed our trip so that we could be home to help sling crabs and pour drinks at the Greenbelt Volunteer Fire Department annual fundraising crab feast. This is the fire department where Michael volunteered as a medic when we lived in Greenbelt. I recaptured a little of the satisfaction that comes with volunteering in your hometown when I put on my old company 35 t-shirt and hauled trays of crabs from the steamer truck into the firehall, to the tables packed full of my friends and former neighbors.
Service with a Smile, GVFD, Greenbelt
My eldest niece ate her share of crabs, and then decided it would be more fun to help her grandma and aunt and uncle at the crab feast than to just sit around. The next generation of volunteering has begun!
Garden Party at David and Jan's, Cheverly
For the second year in a row, our friends David and Jan feted our return to Maryland. David is my oldest friend, though he's really not that old! (Why isn't there a word for the person who has been your friend longer than anyone else?) ANYway, this year they put on a gorgeous lunch in their back garden, together with their next door neighbor Andrea, with whom we have become friends thanks to David and Jan.
Drinks and fruit, Cheverly
David and the Elephant Ears, Cheverly
Every year David's garden is more lush, and now he's also hatching plans for Andrea's yard. He gave me the tour after I sprayed on the usual half can of mosquito repellent. Many other people can wander around Maryland unprotected. Not me.
Kim and Greg, skatin' it up! Laurel
Kim is a retired DC Roller Girl, and her newest thing is learning to dance skate. I thought dance skating was the pinnacle of coolness when I was a junior high schooler. Kim and her friend (and rink guard) Greg took me skating a a few times at Laurel Skate Center, which is also where I went skating when I was a kid. They say you can never go back, but I went back to Laurel Skate Center and it was EXACTLY the same.
Kims on Wheels, Laurel
They've still got the same sign on the back wall that lights up to say "all skate," "reverse," "trios," and "slow down." And the disco ball? It's still spinning, and those flashes of light chasing my wheels across the roller rink floor were still magic, just like when I was eleven.
Trailer of pumpkins, kid not included, Greenbelt
I was in Greenbelt for several Sundays, so of course I visited Greenbelt Farmers Market. It is not the same: it's getting better! This year, several new vendors signed on, including a crepe vendor! We had our eye on that crepe stand when we were visiting other area markets four years in in preparation for founding the Greenbelt market. Now people do their shopping, then get a crepe and sit in the grass next to the city parking lot and visit with friends while everybody's kids run around together. What a perfect Sunday morning! The market has just closed for the season, but it'll open again next spring.
Greenbelt Lake path, Greenbelt
Now I'm back in Saudi Arabia, full from a potluck American Thanksgiving feast. I am feeling grateful for my new life here, and also glowing with gratitude for my family, for my Stateside friends, and for the beautiful State of Maryland.