Traditional nighttime Iftar feast, to break the daytime fast during Ramadan
The month-long Ramadan celebration started on August 1st. For the next moon cycle, Muslims will fast during the daylight hours, and then break their fast with the traditional Iftar meal at sundown. I went for a walk through the neighborhood last night at around 9 p.m., and passed several households that were brightly lit, the driveways and curbs crowded with cars. I can picture the dining tables inside these houses in a few hours, groaning with food and surrounded by family and friends until the early morning hours.
This morning Michael came home from his first night shift during this Ramadan and declared that he would eat nothing until he went to work again this evening. He is a paramedic, so he has a "hurry up and wait" pace at work. When there are no patients to attend to, his shift is quiet, especially at night. Last night, though, his Saudi colleagues brought in a huge midnight Iftar feast, and he stayed up all night eating and visiting.
Other than the night-time Ramadan celebrations, August looks like a ghost town on our compound, with most of the resident expats off on holiday. On my night walks, I can stroll down the middle of the street and not be passed by a single car. I don't even try to do anything outside during daylight hours, and I have been watching too much TV. I can't seem to work up the motivation to do much of anything.
Time stands still during the afternoon when it's hottest, and I feel the overwhelming pull of the couch for afternoon siestas. Time also seems to jump instantly forward: another day has gone by, the white-hot sky has dimmed into blackness, and where did all those hours go?
All this hermit-like behavior makes me feel sluggish and throws off my internal clock. Am I sleepy, or just hot? It feels wrong to stay indoors, breathing air-conditioned air all the time and avoiding the sunlight.
Up the chimney on the climbing wall at our community's school gym
That said, my activity level has also been swinging to the other extreme: I have been improving my technique on the climbing wall in the gym at the nearby school. Also, a friend has been giving me swimming lessons (I already knew how to swim, but until now nobody ever taught me the proper way to do the various strokes.) A few times I have hauled myself out to the track shortly after dawn for some desultory jogging laps. Also, the gyms in our community (we have separate gym facilities for men and women) just got new equipment, and I have been getting a little carried away there with the fancy new weights. Plus, my yoga students are commenting that I have been cranking up the intensity in recent classes. I'm discovering that the secret to success as a couch potato is to find the proper balance balance between utter, slovenly sluggishness and intense physical activity.
Shannon, my dear friend and ruthless swim coach
I am counting the days until my husband and I take our long annual holiday outside the Kingdom. Saudi law requires that we leave the Kingdom for at least a couple of weeks each year. Expats call this "repat," short for repatriation. Not that Saudi Arabia cares whether we actually return to our home country or not. We just have to leave this one. No problem! We will leave in late August, and our first stop will be in Switzerland, to visit some friends Michael made last summer when he was in Zanzibar.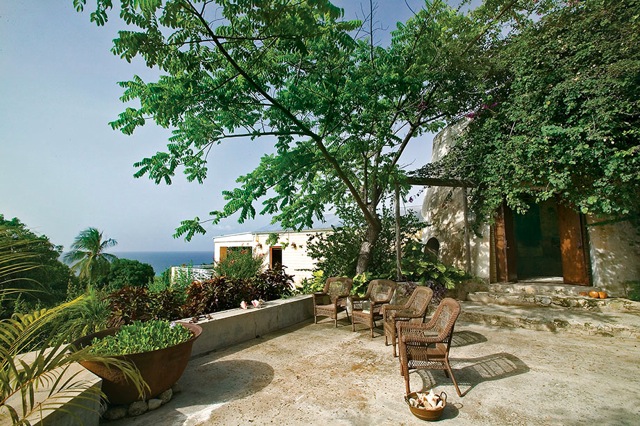 Estate Belvedere, St. Croix
Next we will go to St. Croix and stay with my cousin and her husband, who manage the Estate Belvedere, a four acre guest estate that includes the ruins of a 1700s sugar mill. There I'll get to meet her two children for the first time. New cousins! We hope to do some boating, diving and snorkeling there, and enjoy beautiful sunsets with fruity rum drinks in hand. I can't believe my good fortune, to have a crazy-fun cousin who actually lives on a Caribbean island!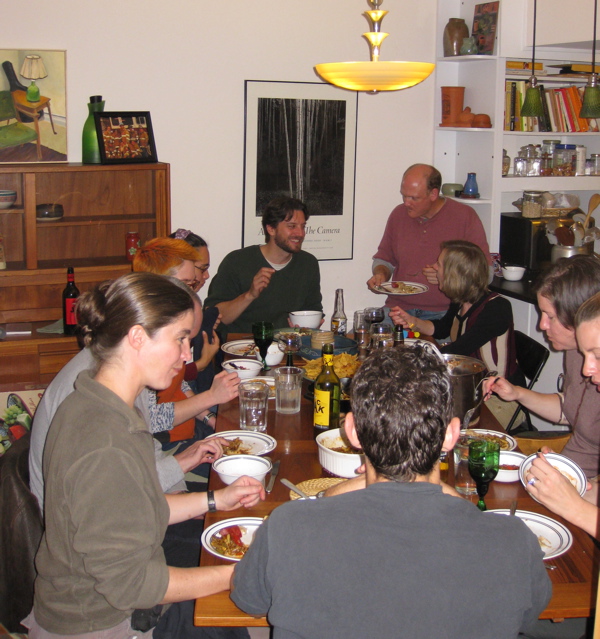 Our last Sunday night potluck dinner before we left the U.S.
After St. Croix, we'll go to Maryland and spend a few weeks catching up with friends and family. Part of our time will be in our hometown of Greenbelt, which will be celebrating Labor Day as only a New Deal-era planned community can, with a three-day festival and a parade. We'll also enjoy a few Sunday dinners with the group of friends we'd been having Sunday potluck with for the last ten years or so before we left the country. Of all the things I miss about living in Greenbelt, Sunday potluck dinner is at the top of the list.
Ocean City Boardwalk
While in Maryland, we'll also spend some time at our family condo in Ocean City. (Marketing plug! Did you know that I wrote a travel guide to Ocean City? It's the most recent, most definitive guide to Maryland's seaside resort!)
Idyllic Eastern Shore spot for our big family celebration
Plus, we'll spend several days on the Chesapeake Bay on Maryland's Eastern Shore. We rented a house big enough for our entire extended family, and there we will have our annual all-purpose family holiday. We call it Thanksbirthmas. Since we only make it home once a year, we have one giant blow-out dinner party and present exchange. I love this new tradition that our family has started, and this year we'll get to enjoy it in a quintessentially Maryland spot, on the water between Easton and St. Michael's on the Eastern Shore. It's fun to plan a trip home as a visitor. We're like tourists who already know all the good spots, and we will actually have time to kick back and enjoy our home state.
At the end of September, we will head back to Saudi Arabia, suitcases full of things that cannot be had in our newly adopted country: Old Bay Seasoning, Q-Tips, Optive eye drops, My Organic Market decaffeinated coffee, Glide Dental Floss, and new clothes in sizes that fit my 6'4" husband.
As much as I'm looking forward to our travels, I am sure we'll be just as excited about returning to our own home sweet desert home.