Parking in Amsterdam
Whenever I visit a city, I give it a thumbs-up or thumbs-down vote as to whether I'd want to live there. It's a wildly unfair survey, based on whatever I happen to stumble across in my often disorganized travels. Would I live in Paris? Thumbs up. Calcutta? Thumbs down. Rome? Thumbs up. Los Angeles? Thumbs down. Bilbao? Thumbs up. Bangkok? Thumbs down. Istanbul? Thumbs up. Chicago? Thumbs up except good grief, it's cold in the winter.
Now I'm just back from a week-long stay in Amsterdam and I can easily imagine a happy life there. And I have more information than usual on which to base my opinion.
Shutters in the old city
That's because my husband and I were traveling with another couple. The wife of this couple plans their itineraries carefully and they hit the ground with fearsome efficiency. Leave it to the library sciences type! She had everything sorted.
Symphony orchestra preparing to rehearse three Debussy pieces
She knew the right day and time to show up for the free symphony orchestra rehearsal at Concertgebouw (Wednesdays at 12:30, September through June).
The National Maritime Museum, as seen from the deck of the three-masted Amsterdam
She knew it was a better deal to buy the Museumkaart because we'd be visiting more than three museums....
EYE Film Institute
She had studied the various forms of public transportation, and read up on which neighborhood to hit for the best restaurant choices (De Pijp).
De Hortus Botanicus (botanical gardens)
Our friend is considering a post-retirement business planning European trips. I hope she does it because I'd be her most loyal customer.
Amsterdam-style dog crate
For all the excellent pre-planning, some of our most pleasurable experiences were completely unscripted. That's one of the best things about travel. We set off on foot every day through the old city, and came back charmed. Completely smitten with the good cheer and small scale of the neighborhoods, the easy efficiency of the public transportation and the bike traffic, and the beauty of the clouds and light reflecting in the ever-present canals.
Gorilla in the park
For all the urban density, there were flowers spilling out everywhere, and pockets of greenery softening the edges of the old city. The gorilla, above, was one of several creatures made of rusting metal odds and ends in a very small triangular pocket park. The installation of sculptures was clearly a neighborhood's whimsical labor of love.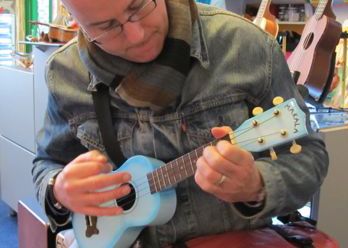 My husband said aloha to a ukulele in Amsterdam.
One afternoon we wandered through an indoor antiques market, and then stumbled upon the Uke Boutique, where my husband couldn't resist this baby blue Makala beauty. As George Harrison said, "Everyone should have and play a uke. You can't play and not laugh."
Airbnb Dinner Party
My husband and I rented a great flat, and I swear this is a completely unsolicited recommendation. Our friends rented a room in a shared apartment nearby. Their hosts were so charming that we invited them to dinner at our place. We shopped at the Albert Cuyp Market (the oldest open air market in Amsterdam, an easy walk from the flat), and cooked a fall vegetable stew. They brought a cheese plate that included a Dutch green cheese--made green with the addition of pesto. At least, that's my recollection of what makes the cheese green. But the cheese course comes after dinner, which included a lot of wine, and dinner comes after pre-dinner drinks. So I can't swear to the pesto thing, only that the cheese was green and it was tasty.
Look at the cheese in the second floor windows!
All told, Amsterdam is a beautiful place to spend an autumn week. It's fun to see with old friends, and now we've made some new ones! I'd like to see it in other seasons, too. Survey says: Thumbs way, way up.