The bed of malaise
I couldn't move. It was a bit warm, but not too hot. This was Thailand, after all. I was aware of being very, very hungry, but the awareness felt like it was coming from far away. I had slept for at least, oh, eleven hours. Maybe that wasn't enough. I formulated a plan to turn my head slightly to the left, so as to look out the window. I executed this move after some minutes, and discovered that the curtain was drawn. I watched the curtain ruffle ever so lightly in the breeze generated by the fan. This kept me occupied for a good twenty minutes. The notion of getting out of bed, dressed, and up the hill for morning yoga class was beyond preposterous. It took my full concentration to make sure that an inhale followed each exhale. Eventually it was time to go to the Wellness Center for my next psyllium and bentonite clay smoothie shake, and the next dose of vitamins. My stomach turned over at the thought.
I had come to Koh Phangan, a small island in Thailand, for a couple of weeks of yoga, quiet retreat, and writing. Turns out, the place I booked, The Sanctuary, specializes in cleanses and fasts--and also in weekly all-night parties (they give out free earplugs for anyone who'd rather sleep!) I had never done a fasting cleanse before, but I'm a yoga teacher. I should try this, right? So said I.
My plans started going sideways when I landed in Thailand and my credit cards started acting finicky. They didn't stop working altogether, but suddenly I was only able to withdraw the equivalent of about $20 at a time from the cash machines at the airport. I learned later that Thailand is notorious for sketchy bank fraud stuff, so my American-issued cards went into lockdown. Meanwhile, as of this writing, it is not possible to pre-pay for your stay at The Sanctuary using a credit card, nor can you use one there; you have to show up with Thai baht in hand. It was with this potent cocktail of financial stress that I arrived in The Sanctuary's private cove at nearly 10 p.m.
The power boat raced up to the shore and I hopped out into the black, knee-deep water, shoes held high and backpack (containing my laptop) biting into my shoulders. I sloshed to shore with almost no money as the motorboat sped back out into the dark waters of the Gulf of Thailand.
The Sanctuary's restaurant is right on the beach, so I dropped my pack and shoes and found a spot at the bar. The bartender was a beautiful, shirtless man with longish blond hair and excellent smile lines around his eyes. He gave me a casual, friendly welcome and got me a quick stir-fry before the kitchen closed.
The resort was crawling with gorgeous people, young and old. Women wore bikinis and sarongs; men generally had battered shorts or bathing suits and, in some cases, shirts. There was a contingent of oh-so-stylishly tattooed and pierced types strutting around purposefully. Otherwise, everyone was relaxed and sun-kissed, going and coming from yoga class, philosophy discussion, massage appointment, tea house, and beach. I felt I could love this place, deeply, if I could sort out how I was going to pay for it.
Then I stopped eating.
I now understand there are several different ways to do a cleanse, including just eating raw foods for a few days. If I ever get it in my head to do a cleanse again, I'll do it that way. But I went hardcore: I chose a five-day package that included a series of supplements and shakes every day, plus a schedule of … colonics. (Cue scary music.)
On the first day of the fast, I had enough energy to enjoy a yoga class and write a little. At 4:00 p.m. a group of us newbies reported to the Wellness Center for our Colonics Lesson. The gleefully enthusiastic Wellness Center manager crowded us all into one of the specially built colonic bathroom huts. A stereo speaker hanging in the corner played Gotan Project's Verve remix of "Whatever Lola Wants" as he showed us how to recline, head lower than our feet, on a specially constructed board. The board was secured at an angle, and had a hole in it over the toilet bowl. He showed us how to control the flow of fluid through the clear plastic tubing, gave us some advice about breathing, massaging the abdomen, and relaxing. He explained that the process could take an hour or more. ("Recline yourself, resign yourself, you're through," Sarah Vaughan crooned.)
With trepidation, the little group of us dispersed to our own personal colonics huts. An hour later I emerged, a little shaky but pretty much okay. And just in time for my next shake! Back at the Wellness Center, I chugged the smoothie as fast as I could, because the psyllium in it expands quickly. If you don't drink up right away, you'll have to work your way through a mug of thick, lumpy beige stuff that has the consistency of vomit. (This post covers all the major bodily functions, hey!)
Gulping the shake like a shot of whiskey seemed like a sensible plan. But in ten minutes it all came back up in pretty much the same format in which it had gone down. After that, I felt like I had been hit by a truck. Even the vegetable broth that we got to slurp down that evening (the highlight of every faster's day) didn't bring me round. It took all my energy to drag myself back to the cabin and fall into bed.
And that, dear reader, is how I came to be staring out the window on that warm Thai morning, sapped of all energy and joie de vivre. I schlumpfed down the hill to the Wellness Center, forcing my brain to pre-construct some sentences to use when I arrived. "I am not feeling very well." No. "This is harder than I thought it would be." No. "I'm having some trouble with the fast. Can you give me some strategies for coping and building up a little bit more energy?" Yes, that's what I would say.
When I arrived, the manager handed me a psyllium shake. "How are you feeling this morning?" he said, beaming at me with boundless energy and good cheer. My fellow fasters sat around the counter chatting and drinking their shakes. I opened my mouth to deliver my prepared statement, and said, "I'm so hungry," and started weeping.
Several people gathered around and offered words of consolation. Almost immediately, the manager cut through everyone's words of advice and said, "If you are hungry, you should eat." I burst into new tears, but these were tears of joy. I was in such a fog that it never occurred to me simply to cut the fast short. The manager gave me a restaurant voucher and told me to go and order a bowl of papaya.
I crossed the little arched bridge to the restaurant, which smelled like cinnamon and coffee and blueberries and every wonderful thing, and I placed my order. I sat with another woman who was just breaking her fast (she had managed to stay on hers for more than 36 hours, though.) The bowls of vivid orange papaya arrived, spritzed with lime juice and smelling fresh, sweet and sharp.
We shared a moment of joy with those first bites, and a few new tears fell. (There is such drama when I'm hungry!) I promised myself that I would never, ever deny myself food again. Eating good food is one of life's most exquisite pleasures, seriously. Now I understand that even better than before. I was also feeling rather proud of myself for quitting. It's a big deal for me to quit. Even after something has proven itself to be a bad idea, I am the type to slog through if I made a commitment to slog through. But not this time.
The bowl of papaya filled me with strength, energy, joy, resolve! Now that I could think straight, I had to figure out the money situation. It was Friday, and the all-night party was looming that evening. I was stressed about the money thing. I was unhappy that I had been in Thailand for four days and had done little yoga and even less writing. I was definitely not looking forward either to partying all night or trying to sleep through the rave outside my grass hut. Falling off the fasting wagon gave me the inspiration I needed: why stick it out here? I could just leave!
Making good my escape
With more complications than should have been necessary, I arranged an electronic payment to settle my Sanctuary bill and took the next boat out. At Koh Phangan's main dock, I hired a taxi truck (a pickup fitted with bench seats and a roof in back) to drive me from the shore to the top of the island's highest peak. I arrived at the gates of Monte Vista Retreat* just in time for lunch. I paid for my stay using Paypal, boom! Done. No problem. Immediately all my tension drained away.
A handmade, homegrown retreat
My home at Monte Vista
I stayed in a little hut perched on a rock at the edge of the jungle, overlooking the sea.
My office at Monte Vista
I set up a little workspace out on my cabin's deck, and I finished the novel that I have been working on for three years. (Yes!)
Office help
Monte Vista even provided me with an office assistant.
I took a yoga class every morning at eight, enjoyed a simple, healthy, communal breakfast, then wrote until lunchtime.
The dining table at Monte Vista
Lunch was another simple, delicious meal served outdoors, followed by an afternoon of writing, napping, rocking in the hammock on my deck. Five in the afternoon was the time for meditation on Monte Vista's top deck, followed by dinner with a view of the sun setting over the Gulf of Thailand.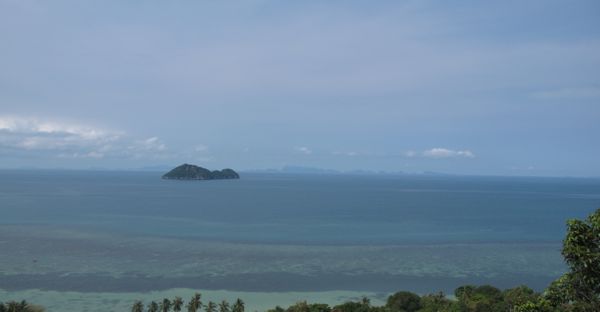 The view from the main deck at Monte Vista
The only entertainment on offer at Monte Vista, other than relaxed, genuine conversation, was a library of documentary videos for evening viewing. I was in bed by nine or ten, and the only noises were jungly ones.
This was the retreat I had come looking for. I never would have found it, though, without the drama of The Sanctuary to lead me here. I finished the draft of my novel, deepened my yoga and meditation practices, and returned home feeling recharged, ready to dive into real life again. Good thing, too: the pedal of real life was about to hit the floor.
*Monte Vista came under new management a few months ago, and they are in the process of overhauling the web site.