Cinderella ball gowns: Saudi malls are chock full of these practical frocks!
Shopping seems to be Saudi Arabia's national pastime. We live about 40 minutes away from Hofuf, the nearest city to our compound in the Eastern Province of Saudi Arabia. Even in Hofuf, which is kind of nowheresville, there are huge shopping malls with Starbucks, food courts, children's play areas, and more clothing and jewelry stores than you can shake a scepter at. (In fact, you can buy a jewel-encrusted scepter there, and a matching crown, too. Am I kidding? No.)
When we have a sizable shopping list, we drive a couple of hours north to Khobar. Up there are many familiar, western stores. We are really not trying to shop as though we never left the United States. However, when we need a set of bookshelves and some new drinking glasses, for example, we could spend weeks sorting out where to purchase these things in the small shops and then showing up at their doors repeatedly until one fine day when we happen to find them open--or we could just go to Ikea. I'm all for shopping local, but it's something we will have to ease into here, as we become more familiar with the neighborhoods in Hofuf and Khobar, and as Michael becomes more proficient in Arabic.
The road north to Khobar
So last week, it was time for a shopping trip. We woke up early and set out on the road north to Khobar. The shops open at around 9:00 or 9:30 in the morning, and close again for prayers between 11:30 and noon. The larger, western stores (Ikea, Carrefour, Toys 'R' Us) open again for afternoon shopping, but everything else stays closed until after 4:00 p.m. Then they close down again for 20 to 30 minutes once or twice more for evening prayers, and stay open until quite late--sometimes as late as midnight. Driving after dark on Saudi roads is a sketchy proposition for those who value their life. So the only realistic time to get anything done is in that two-hour window in the morning. So we had our list, we had our plan, and we were off!
Abaya on the outside; cutoffs and t-shirt underneath.
When we arrived at our first destination, I had to suit up: my abaya went on over shorts and t-shirt. With temperatures hovering around 120 degrees F, I get pretty cranky about having to wear this thing. Although it's actually quite beautiful compared to some other abayas, I still refer to it as my Hefty Trash Bag. That's how it fits, and that's about how it feels when I'm standing out in the heat. Anyway, on it goes, and we hit the stores.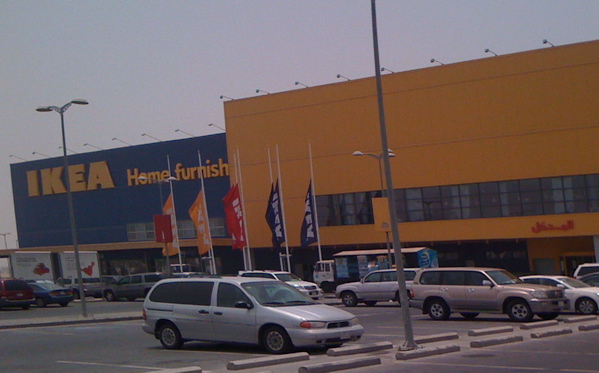 Ikea! Looks just like the one at home, except for the Entrance sign in Arabic.
Here's the Ikea sign in Arabic.
Curtains for my office
I found some curtains for my office, thus finishing the last of the curtain and blind purchases for the house. The relentless sun makes window treatments really important here. Happily, there are plenty of skilled tailors in Saudi Arabia. So instead of using those ridiculous iron-on strips that Ikea suggests one uses to "hem" their curtains, I just take mine to the tailor on our compound for proper hemming.
Another view of the watch and camera souk
On this day we discovered a new shopping neighborhood, or souk, in Khobar. Like New York and many other cities, Khobar has little shopping neighborhoods devoted to particular goods. There are a few square blocks with lots of kitchen and plumbing stores, another area known for fabric stores, and this one, which is full of watch and camera stores. Perfect, since we had our broken camera with us. (Poor thing finally cried "Uncle" a couple of months after my India trip.) I took these pictures from inside the car because 1. I have been told by some people not to take pictures in public places (though others have said it's fine) and 2. Out on the street it was as hot as, well, Saudi Arabia in July!
KFC, Carl's Jr., and Krispy Kreme. One stop shopping for all your artery-clogging needs.
Saudi Arabia is in the process of being taken over by the creeping fungus of American fast food chains. Krispy Kreme shops seem to be proliferating the fastest of all. Dunkin' Donuts is also a contender, but Krispy Kreme is winning. That said, I also do see a lot of "broasted" chicken places, which look like family owned businesses, and are a good alternative to KFC and the like. All of the restaurants, even fast food places, have "family" seating sections and "single" sections. "Single" equals men only, since a single woman cannot go out in public. Even in the food courts at the malls, there are little partitions set up at the ordering counter, to divide the men's line from the women's line.
Off-street parking
There's plenty of parking at the shopping malls, but if you're shopping in the neighborhoods, finding a space can be a challenge for the fainthearted. Fortunately, we have a sturdy vehicle that can easily climb curbs, yet is narrow enough to squeeze between construction barriers. Presto! Parking space.
Saudi city planners (Guffaw! As if!) have a profound distaste for median breaks. If your destination is on your left and the road is divided, you may have to drive several miles further before you can do a U-turn and get back to it. Likewise, if a shop on a busy street has parking in the back, there may not be a turnoff that would allow you to actually access that rear parking until you are way, way past the store. Perhaps the craziest "city planning" thing here is the lack of buffer between parking lot and freeway. There are literally--literally!--ramps that connect freeways with shopping center parking lots. Not feeder roads to the shopping center. No. You're barrelling down the freeway at 100 km, you get to your exit, and the ramp actually dumps you directly into the parking lot. Parked cars. Pedestrians. Shopping carts. The works. Slam on the brakes and deal with it! The reverse is true, as well. When you exit the shopping center lot, you've got to wind it up on the tiny little ramp and floor it onto the right lane of the freeway!
Fortunately, we are making friends with families in our company's housing compound in Dhahran (the town right next to all this shopping goodness). So we generally end our frenzied Khobar sprees with a nice, home-cooked dinner and a relaxed visit. After this kind of pulse-racing day, it feels great to drive onto the quiet, slow, safe streets of camp and be greeted with a cold drink by our friends.